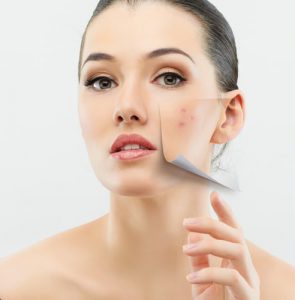 Brown spots, acne scars, and age spots…OH MY! When it comes to our face, these three words immediately convey insecurity and low self-esteem. No one wants to look in the mirror and see any type of spot tarnishing their beautiful face. So what do you do? How do you clear up these spots to ensure people won't be staring at your Dalmatian spotted skin?
The Dermlounge offers numerous options to choose from when deciding to get rid of these problem areas. Lasers, peels, and skincare products can all be utilized to remove areas of skin discoloration. One of the best non-invasive options with absolutely no down time is a topical skin lightening product. Both Obagi and SkinCeuticals offer skin lightening products that contain different ingredients but are both extremely effective and can easily be added in to your night time skin regimen.

SkinCeutical's Advanced Pigment Regulator was awarded the Best of Beauty Breakthrough Award in 2013 by Allure Magazine due to its success in treating hyperpigmentation. Pigment Regulator contains salicylic acid, hydroxyphenoxy propionic acid, vitamin E, and yeast extract to help generate glowing, flawless skin. These ingredients diminish existing spots by exfoliating, preventing melanin transfer, stopping excess melanin production, and improving skin's resistance to new and reoccurring pigmentation.

Obagi's product for reducing unwanted pigmentation, Clear, has been called the "Gold Standard Skin Lightener." The product is safe for use on all skin types and contains four percent hydroquinone which corrects the appearance of age and sun spots by gradually lightening dark spots. Due to the high percentage of hydroquinone, a prescription from Dr. Zemmel is required to purchase this product.
No matter which product you choose you will be sure to help erase your unwanted brown spots. Both products are available at The Dermlounge. Stop by the office to pick them up or call Dermlounge at 804-423-2100 to schedule a free skin analysis with our esthetician.