As we age, many people begin to notice excess fat accumulating directly beneath the chin and along the upper neck. Traditionally, liposuction or another fat contouring surgery would be used to treat this condition – also referred to as a "double chin." However, with KYBELLA®, our patients now have the alternative to choose an effective, non-surgical option when they visit our Richmond Aesthetic Surgery and Dermlounge office in Short Pump.
What Is KYBELLA?
The first and only FDA-approved treatment of its kind, KYBELLA targets excess fat under the chin (which is medically termed submental fullness). Using a gentle formula injected directly at the target site, KYBELLA is designed to dissolve unwanted fat and reduce the appearance of a "double chin." The active ingredient, deoxycholic acid, is a molecule that is found naturally in our bodies and works to break down dietary fat. Once broken down, this fat can exit the body through the normal metabolic process.
Am I a Candidate for KYBELLA?
Though many patients with excess fat under the chin and along the top of the neck benefit from KYBELLA, the treatment is designed to exclusively treat submental fullness. Patients who also have excess or loose skin below the chin may not be ideal candidates for KYBELLA. During the consultation process, your physician will perform a physical examination, discuss your expectations, answer your questions, and help you determine if KYBELLA is the best cosmetic procedure for you, or if an alternative like CoolSculpting® is more beneficial.
How Does the KYBELLA Treatment Work?
KYBELLA is an in-office procedure that can typically be completed within 20 minutes. To help improve your comfort, the target area can be treated with a numbing agent prior to the injection process. During the treatment, a series of injections will be administered into the planned areas beneath the chin. The number of injections in your series will be tailored to the specifics of your chin profile and accumulation of fatty tissue. By eliminating excess fat beneath the chin, many patients are able to significantly enhance the angles of their face, improve their overall profile, and experience a boost in self-confidence.
How Many KYBELLA Treatments Will I Need?
Most patients will need a series of two to four KYBELLA treatments to achieve optimal fat reduction results. This number will vary based on the needs and goals of the individual, and will be discussed during the consultation process. Each treatment should be spaced at least four to six weeks apart to allow adequate time for the body to recover before the next injections are administered. Patients should not exceed a total of six KYBELLA sessions.
What Can I Expect After KYBELLA?
Immediately after your KYBELLA treatment, you should be able to leave our office and drive home or to work, resuming your daily activities like normal. While no downtime is typically needed, you may experience some swelling, bruising, and numbness in the treated area. To help control possible swelling, you can apply a cold pack underneath your chin and take over-the-counter pain medication to help control inflammation. If you notice any abnormal side effects after treatment, please contact our team, and we can help you understand if what you are experiencing is normal.
When Will I See My KYBELLA Results?
The results from KYBELLA injections will gradually take effect over the course of several weeks as the deoxycholic acid breaks down the targeted fat, which is then processed out of the body. Patients can opt to receive up to six KYBELLA sessions, spaced at least one month apart, to maximize their results. Most people will see noticeable results after two to four sessions.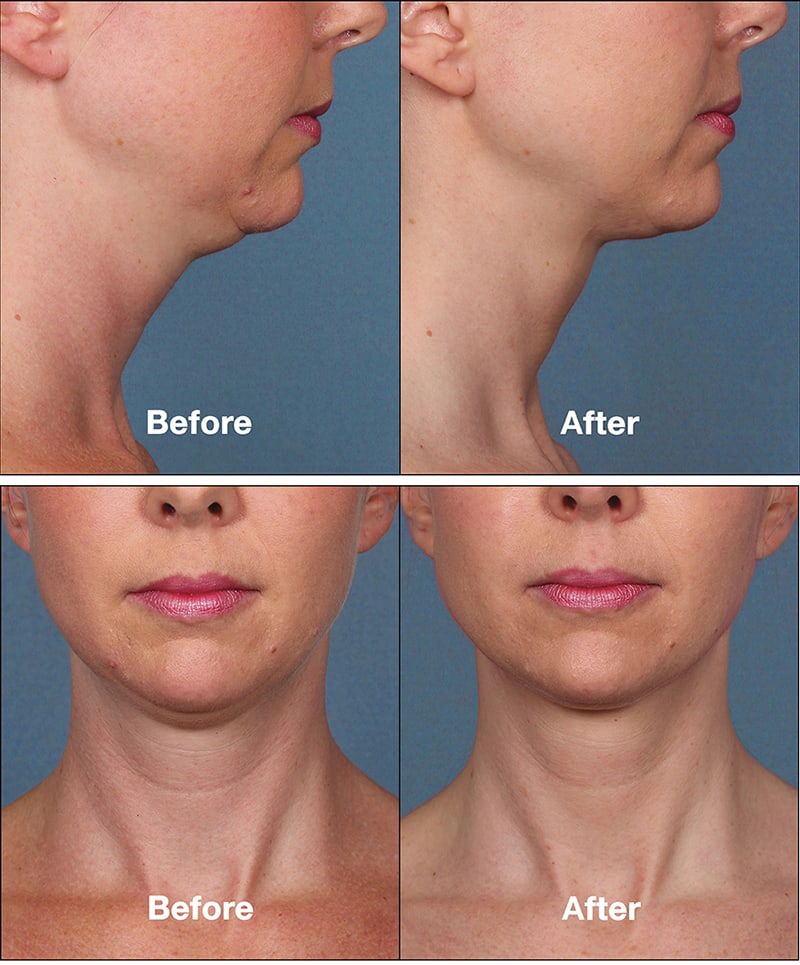 Since KYBELLA destroys the excess fat cells, this tissue cannot return, and the procedure is considered a permanent solution. As a result, patients can expect their KYBELLA results to last for many years, enjoying the more defined jawline they desire. While the fat that was removed will not return, it is possible for the skin and muscles in the upper neck to gradually loosen due to age. Should this happen, you may need a neck lift in the future to restore the beautiful contouring results from your KYBELLA treatment.
Side Effects Associated with KYBELLA
After the procedure is complete, you may experience mild bruising, swelling, or numbness, though these side effects should resolve within a few days. Patients typically return to their normal daily activities immediately after their KYBELLA treatment.
How Much Does KYBELLA Cost?
The average cost of KYBELLA typically begins at $2,000 per treatment. However, this will vary for each patient depending on the expertise of their professional, amount of KYBELLA needed during the treatment, and the number of sessions required to reach their aesthetic goals. After you have been evaluated, a treatment plan will be created to address your unique needs. Our team will communicate the fees associated with your procedure, so you know what to expect with your KYBELLA cost.
Are There Any Alternatives to KYBELLA?
KYBELLA is designed to reduce excess fat underneath the chin, which can also be achieved from alternative procedures. Our team at Dermlounge offers CoolSculpting® as another non-surgical fat reduction treatment. Using a special applicator, this innovative system cools the target area to the point of freezing, which destroys the excess fat cells and gradually contours the upper neck area. Patients with more substantial fat deposits underneath their chin may be better candidates for liposuction. Through this surgical technique, fat cells are carefully removed via cannulas from the target area to create a more sculpted neck and chin profile. Your aesthetic professional will discuss your options with you during your consultation to help you understand the most beneficial treatments for helping you achieve your aesthetics goals.
Contact Dermlounge
For more information about KYBELLA, or to schedule a consultation at Dermlounge, please contact us today.