Dermlounge is proud to now offer our patients SkinMedica®. SkinMedica® is a medical grade, non prescription skin care product line that focuses on the prevention and correction of fine lines, wrinkles, skin discoloration, hyperpigmentation, acne and other skin conditions.  With decades of scientific research and innovative breakthroughs, SkinMedica® is the fastest growing skin care company in the physician-dispensed channel. With customized SkinMedica® regimens to use at home, you can expect your skin to look youthful and vibrant for years to come.
Get the ultimate visible results with SkinMedica's GRASS regimen. This regimen includes powerful human growth factors, potent antioxidants, retinols, and sun protection.
Click Here to Purchase SkinMedica® Products
Chemical Peels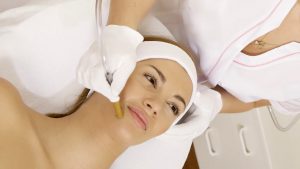 Reveal your skin's radiance by undergoing a non-invasive, well-tolerated chemical peel designed to address the outermost damaged layer of the skin. Illuminize Peel is designed for mild skin imperfections. Vitalize Peel is designed for mild to moderate skin imperfections such as acne, hyperpigmentation, and post-inflammatory hyperpigmentation. Rejuvenize Peel is designed for moderate to severe skin imperfections. Recommended after undergoing at least one Vitalize Peel.
HA5 Rejuvenating Hydrator

The HA5 Rejuvenating Hydrator works to increase the water level within the structure of the skin, helping smooth fine lines and wrinkles for a more youthful complexion. The innovative formula is composed of a proprietary mix of five forms of hyaluronic acid (HA). These five HA forms work together to create instant improvement in skin texture while hydrating throughout the rest of the day. In addition to skin hydration, HA5 actually helps the skin replenish its own naturally occurring HA for long-lasting rejuvenation. The HA5 Rejuvenating Hydrator is beneficial for all skin types and works well in conjunction with any skin care regimen.
TNS Essential Serum®

TNS Essential Serum® is designed to diminish fine lines and wrinkles, as well as improve the skin's tone and texture. It combines TNS Recovery Complex® and the APS Corrected Complex into two chambers within the product. The formulas contain growth factors, antioxidants, vitamins, and matrix proteins that work together to provide beautiful skin improvement for all skin types. Clinical studies showed results beginning at 30 days with optimal improvement occurring at 90 days.
LUMIVIVE™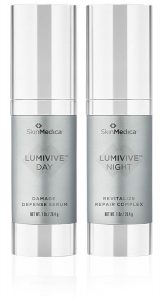 LUMIVIVE™ is a skincare system created to protect your skin during the day and help it recover at night. With LUMIVIVE Day Damage Defense Serum, your skin resists damage from blue light and pollution throughout the day. Combining this with LUMIVIVE Night Revitalize Repair Complex, your skin is also repaired overnight. The LUMIVIVE system is appropriate for all skin types and is a great addition to any new or existing skincare regimens.
Glow on the Go Travel Pack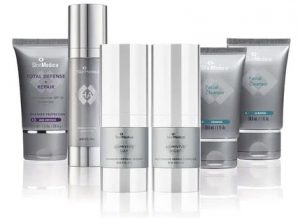 The Glow on the Go Essentials System combines several SkinMedica products in one convenient travel pack. The collection of mini products includes the LUMIVIVE system, HA5 Rejuvenating Hydrator, facial cleansers, and more. They are designed to help your skin glow, whether you are at home or on-the-go.
Contact Dermlounge
Schedule a complimentary consultation with our Licensed Aesthetician to determine which peel is right for your skin type and the goals you want to achieve.