What Is BOTOX Cosmetic?
BOTOX Cosmetic injections for the treatment of facial wrinkles is one of the most common procedures performed at the Dermlounge and Richmond Aesthetic Surgery in Short Pump. In fact, BOTOX Cosmetic injection is the most common cosmetic procedure performed worldwide. BOTOX Cosmetic is administered with a series of very small injections and has essentially no downtime and very few, rare side effects. BOTOX Cosmetic is used most commonly in patients ages 24 to 70 years old to treat a number of conditions, and is widely used by both men and women.
BOTOX Cosmetic injections are commonly used to rejuvenate the face, but also have been used to treat excessive underarm sweating.
What Causes Facial Aging?
Facial aging is determined by many factors including environment, sun exposure, lifestyle choices, and genetics. Environmental factors including smoking and pollution can lead to premature aging of the skin, causing wrinkles and problems with skin texture and color. Individuals who spend a significant amount of time in the sun usually have deeper wrinkles than those who wear a high SPF sunscreen or avoid the sun consistently. Long-term sun exposure will cause both fine and deep facial wrinkles, irregular pigmentation of the skin, and loss of skin texture and elasticity. Genetics is the one factor that is not controllable, and many people notice that their skin ages similarly to their parents'.
During your initial consultation, board-certified plastic surgeon Neil J. Zemmel will examine your medical history and focus on your desires for facial rejuvenation. A physical examination of the face and neck will assess:
The position of the eyebrows and forehead
The presence of frown lines or forehead creases
The shape and position of your upper and lower eyelids
The presence of wrinkles (crow's feet) around the eyes
The presence of a tear-trough around the lower eyelid
The shape and position of the cheek
The occurrence of marionette lines and parentheses lines around the mouth
Skin and muscle laxity of the neck
Asymmetry of the face, especially the forehead and brow area
The overall quality of your skin
Did You Know
Our team will formulate a custom treatment plan that addresses your facial aesthetic concerns and will give you a safe and beautiful result.
How Does BOTOX Cosmetic Work?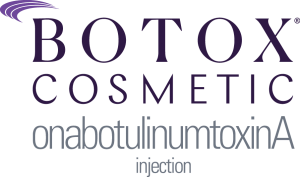 BOTOX Cosmetic gives a refreshed, rejuvenated look by weakening small muscles of facial expression. Certain facial muscles cause wrinkling or pleating of the overlying skin after many years of movement and contraction. By weakening these muscles, the wrinkles become less prominent and smooth out in time.
BOTOX Cosmetic works by preventing the release of the neurotransmitter acetylcholine at the targeted muscle to temporarily stop muscle contraction. This effect, called "chemodenervation", usually lasts for three to six months, depending on the area treated and the experience of the patient.
Types of Facial Wrinkles
There are two types of wrinkles present on the face: dynamic and static.
Dynamic wrinkles occur when a person makes frequent facial expressions, such as raising the eyebrows or frowning. These expressions cause the muscles to contract, causing pleating of the skin. Dynamic wrinkles such as crow's feet, frown lines, and forehead creases are very easily treated with BOTOX Cosmetic, which is designed to ease muscle contractions. Once these muscles are weakened, the overlying pleats improve dramatically.
Static wrinkles are present all the time, even when no movement is occurring. They are caused by the effects of gravity and loss of facial volume. The most common static wrinkles are marionette lines and parentheses around the mouth (the nasolabial fold). We recommend fillers such as JUVÉDERM® to add volume to these areas.
Most Common Wrinkles Treated with BOTOX Cosmetic
The most common wrinkles treated with BOTOX Cosmetic are the horizontal lines of the forehead, the vertical frown lines in between the eyebrows, and crow's feet around the eyes. Other areas treated are the vertical lines around the mouth (lipstick lines) from smoking or drinking from a straw, as well as the horizontal "bunny" lines across the bridge of the nose. BOTOX Cosmetic can also be used to treat chin dimpling, platysmal bands of the neck, and enlarged masseter muscles, which cause a larger jaw line in women.
What Can I Expect During My BOTOX Cosmetic Treatment?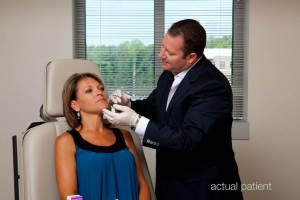 The first visit includes your comprehensive consultation with Dr. Zemmel. We also sometimes begin treatment during this same appointment. The most important part of this visit is to discuss your concerns and personal goals. This allows us to prepare a plan of treatment specialized to your needs, as no two patients are alike.
Before the procedure begins, the treatment area will be cooled with an ice pack to reduce discomfort. The actual injections are virtually painless, as we use the smallest needles possible for each treatment. You can expect between three to five injections in each treated area. The entire consultation, if injections are included, takes approximately 30 minutes.
What Can I Expect in My BOTOX Cosmetic Recovery?
A common side effect for BOTOX Cosmetic is mild redness along the injection site. This usually dissipates within 30 minutes of the procedure. Less commonly, some patients may experience a pinpoint bruise from the needle puncture that will take approximately two to three days to heal.
Dr. Zemmel will see you for a follow-up two weeks after your initial treatment to ensure you are satisfied with your new look. Although they are rarely necessary, any touch-ups or corrections will be made at this time. We recommend repeated BOTOX Cosmetic treatments every three to five months so the muscles do not return to full strength, as this can cause the wrinkles to return.
What Are the Typical Results of BOTOX Cosmetic?
After your first treatment, you will see the maximum effects at approximately four to eight weeks. During this period, the wrinkled skin will begin to remodel, smooth out, and redrape. BOTOX Cosmetic does not affect skin sensation, only muscle contraction. This means you will be able to feel all of the areas treated but you will not be able to fully contract the muscles. These results last approximately three to six months depending on the individual.
How Long Does BOTOX Cosmetic Last?
The final results of BOTOX Cosmetic may take one to two weeks to develop, though patients may notice improvements sooner. As the contracted muscles of the face begin to release, the wrinkles on the surface of the skin can appear less prominent for a smoother, more youthful-looking complexion. The results of BOTOX Cosmetic typically last three to five months, though individual results vary from patient to patient.
What Are Preventative BOTOX Injections?
Some patients prefer to address wrinkles with BOTOX Cosmetic before they actually appear. In this case, we use preventative BOTOX injections, which are usually administered to patients in their mid twenties to early thirties. Preventative BOTOX injections cannot stop the natural aging process, but it can make wrinkles less pronounced if and when they do arise.
If you are interested in preventative BOTOX injections, reach out to Dr. Zemmel to discuss the procedure.
BOTOX Cosmetic Before & After Pictures
How Much Does BOTOX Cosmetic Cost?
The cost of BOTOX Cosmetic is approximately $250 to $1000 per treatment area in the Richmond area. At Dermlounge, our patients can expect to pay $14 per unit. Dr. Zemmel customizes each BOTOX Cosmetic treatment to suit the patient's individual needs. As a result, there is no set price for treatment with BOTOX Cosmetic. Variables that can impact the total cost include the severity of the facial wrinkles, the number of treatment areas, and the amount of BOTOX Cosmetic needed to achieve the patient's goals.
During your preliminary consultation, Dr. Zemmel will examine your face, discuss your cosmetic concerns, and tell you the cost of your custom-tailed treatment plan. Our patients at the Dermlounge and Richmond Aesthetic Surgery often take advantage of our VIP Program for discounts on BOTOX Cosmetic. Flexible financing options are also available for patients who could benefit from an installment plan. To learn more about our VIP program or our financing options, please contact a member of our staff today.
Additional FAQs
How Often Should I Get BOTOX Injections?

Maintaining your results with BOTOX Cosmetic can be easily accomplished by scheduling routine touch-up appointments. Since results often begin wearing off at three months, many patients can benefit from four injection treatments per year. Even if your BOTOX Cosmetic hasn't completely worn off, Dr. Zemmel can adjust the amount of product to be used to ensure you maintain a youthful yet still natural-looking appearance. Some patients who regularly receive BOTOX Cosmetic treatments may notice their results begin to last longer over time.

Are There Any BOTOX Cosmetic Side Effects?

BOTOX Cosmetic is FDA-approved for the treatment of facial wrinkles, including moderate to severe horizontal forehead lines, crow's feet, and the vertical lines between the eyebrows (glabellar lines). Although there is no downtime associated with BOTOX Cosmetic, some patients may experience mild discomfort, redness, or bruising at the injection site immediately after treatment. These side effects typically resolve very quickly. In rare cases, side effects may include headache, dry mouth, dry eyes, blurred vision, drooping of one or both eyelids (3%), or swelling of the eyelids. If you are experiencing any serious side effects of BOTOX Cosmetic, please contact our office or your primary care physician immediately.

Can I Get BOTOX Injection if I'm Still Breastfeeding?

Because BOTOX Cosmetic is made of a neurotoxin, most medical professionals will advise you only to undergo BOTOX injections after you have finished breastfeeding permanently. However, statistics show that breastfeeding with BOTOX, while risky, rarely causes any harm to the baby. If you are breastfeeding and considering BOTOX, talk it over with your general practitioner or OB/GYN first.

How Long Does it Take for BOTOX Injections to Work?

The effects of BOTOX Cosmetic begin between two to five days after treatment. Depending on the extent of treatment, you can expect the results of your BOTOX injections to fully set in within four to eight weeks. For best results, plan on coming in for treatment sessions every three to five months so the wrinkles that have been removed do not re-form.

BOTOX for Hyperhidrosis

BOTOX Cosmetic is also used for hyperhidrosis of the underarms, or excessive sweating. BOTOX Cosmetic acts to stop the production of sweat from beneath the under arms by inhibiting the function of the eccrine sweat glands responsible for the water component of sweat. The onset of action is rapid usually within 48 hours. Sweating is usually significantly improved or stopped completely for three to six months.

Dysport® vs. BOTOX Cosmetic

Dysport and BOTOX Cosmetic are both composed of botulinum toxin A and, therefore, are used to treat similar concerns. Although they can typically be used interchangeably, there are certain differences between the two. Dysport's formula has a smaller protein load than BOTOX Cosmetic. As a result, Dysport injections begin to work slightly faster than BOTOX injections. In addition, Dysport tends to spread farther than BOTOX Cosmetic, which makes it particularly beneficial for larger areas being treated.

In addition, Dysport is more diluted than BOTOX Cosmetic. While Dysport is less expensive than BOTOX Cosmetic, more units are typically required to achieve a similar effect. Both Dysport and BOTOX injections can provide beautiful anti-aging results when administered by a qualified professional. In most cases, the best injectable for a patient will ultimately be determined based on doctor and patient preference.

Is BOTOX Cosmetic Safe?

BOTOX Cosmetic is considered a safe method of treating a variety of concerns, including fine lines and wrinkles, when performed by an experienced and qualified professional. While initial side effects may occur, such as mild tenderness, bruising, or swelling, the risk of complications is low.

Are There Alternatives to BOTOX Injections?

As stated above, Dysport is a popular alternative to BOTOX Cosmetic that can achieve similar results. Depending on the patient's specific concerns being addressed, other treatment options may be available to choose from as well. For example, dermal fillers can add volume to certain facial areas to smooth out fine lines and wrinkles.

Jeuveau® is another excellent alternative. Designed to smooth out frown lines by curbing their ability to flex, Jeuveau, like BOTOX Cosmetic, is made of a botulinum solution. While it functions similarly to BOTOX Cosmetic, it is not FDA-approved for as wide a range of treatment.

Laser treatments, like fractional laser resurfacing, are also beneficial for patients wanting to diminish signs of aging. More personalized details about what can benefit you will be discussed with you during the consultation process.
Contact Dermlounge
For more information on BOTOX Cosmetic, or to schedule a consultation at Dermlounge, please contact us today.