What Is CoolSculpting?
Video Image Placeholder

CoolSculpting is a non-surgical and FDA-cleared treatment for fat reduction and body contouring. Our Richmond med spa offers this innovative liposuction alternative to help patients address stubborn pockets of fat that have been resistant to diet and exercise. Using advanced cooling technology, CoolSculpting can target and destroy isolated fat pockets, while leaving surrounding tissues unharmed. If excess fat on your abdomen, hips, or other areas is a source of frustration, this treatment may be beneficial.
How Does CoolSculpting Work?
The advanced contouring technology of CoolSculpting uses cooling energy to target fat cells under your skin's surface. By freezing these cells through a process called cryolipolysis, the fat begins to break down. Over time, the damaged cells are metabolized and eliminated from your body, with help from the lymphatic system. Once eliminated, existing fat cells cannot regenerate. Results from CoolSculpting can be seen as soon as 3 weeks, but may take up to 4 to 6 months for the final results to occur.

What Are the Benefits of CoolSculpting?
CoolSculpting has become a popular method of contouring the body without surgery. The fat reduction procedure offers numerous benefits, such as the following:
Non-invasive
No anesthesia is needed
Little to no downtime
Long-lasting results
What Areas Can CoolSculpting Treat?
CoolSculpting can address a variety of body areas that are prone to fat accumulation. Commonly, this extra fat is in areas such as the following:
Chin and jawline
Upper arms
Abdomen
Love handles (flanks)
Bra line and back
Thighs
Hips
Buttocks
Video Image Placeholder
During the consultation process, our aesthetician will perform a physical exam, discuss your cosmetic goals, determine your candidacy for non-surgical body contouring, and recommend a customized CoolSculpting treatment plan that can meet your needs.
Did You Know
CoolSculpting can often be an ideal option for patients with busy schedules to get the treatment they desire, as there is no lengthy recovery process.
Am I a Good Candidate for CoolSculpting?
Patients who are interested in CoolSculpting should be in relatively good health and at or near their ideal weight. The procedure is not designed to cause dramatic weight loss. It is intended for men and women who struggle with isolated areas of excess fat, despite following a relatively healthy lifestyle composed of a nutritious diet and regular physical activity. Candidates typically want to eliminate remaining fat pockets that have proven resistant to this strict diet and exercise. This excess fat may be concentrated in one area or spread across multiple areas such as the thighs, hips, buttocks, abdomen, and/or flanks.
What Are the Different CoolSculpting Applicators?
CoolSculpting is cleared by the FDA to treat visible fat bulges in a variety of body areas, and the system achieves this through several customized applicators. Dr. Zemmel utilizes these advanced tools to precisely target fat pockets in large or small areas. Applicators we utilize at Dermlounge include:
CoolAdvantage™ for the abdomen, flanks, and inner thighs.
CoolAdvantage Plus™ for treating large body sections.
CoolAdvantage Petite™ for the upper arms, bra line, buttocks, and knees.
CoolMini® for underneath the chin and jawline.
CoolSmooth PRO™ for areas with non-pinchable fat, like the outer thighs.
What Does a CoolSculpting Treatment Session Involve?
On the day of your appointment, our experienced medical staff will lead you to our treatment area. You may lie down or sit comfortably, depending on what area is being targeted. CoolSculpting does not require you to have an anesthetic because it is a non-invasive treatment. Your treatment should last about 35 to 60 minutes.
To begin treatment, the CoolSculpting gel pad and applicator will be placed on the target area. Suction is applied, and the cooling process will begin. Commonly, patients feel an intense cold sensation for the first 5 to 10 minutes, at which point the area becomes numb. After the process is complete, we will remove the device and massage the area for 2 to 3 minutes. You may feel tingling at this point as the tissue warms back up. Once you leave our office, you are free to resume your normal daily activities. You may also schedule any follow-up appointments for other areas you wish to treat.
How Many CoolSculpting Treatments Will I Need?
Most patients get 1 to 3 CoolSculpting treatments to achieve optimal results. Keep in mind that every patient will respond differently to their CoolSculpting procedure, though. In your consultation, we can discuss your expectations and areas you wish to target. From there, we can develop a custom treatment plan to help meet your aesthetic goals.
What Can I Expect in My CoolSculpting Results?
Results from CoolSculpting are typically noticed as soon as 3 weeks after treatment but may take up to 4 to 6 months to fully develop. After about 3 months, patients typically experience a reduction of up to 20-25% of the targeted fat cells after a single session. Once the fat cells are destroyed, they will not regenerate. Although new fat cells cannot develop, your existing fat cells can still grow or shrink depending upon your diet, exercise regimen, and lifestyle choices. Keeping diet and exercise a part of your daily routine can help curb further weight gain. When patients diligently maintain a healthy lifestyle, the results of CoolSculpting are considered long lasting.


Are There Any CoolSculpting Risks?
Since CoolSculpting is non-invasive, there is very little risk associated with the treatment. However, patients may experience mild side effects after treatment. This can include temporary redness, numbness, stinging, aching, or increased sensitivity may develop at the treatment site and last for a few days. Patients who are sensitive to low temperatures, or those who have certain pre-existing conditions, are at a greater risk for complications. Your medical history will be carefully reviewed prior to treatment to determine your candidacy for CoolSculpting.
How Much Does CoolSculpting Cost?
Most CoolSculpting treatments cost between $2,000 to $4,000, but this can vary depending on the specifics of your treatment plan. Since each treatment is customized by our Licensed Aesthetician to meet your unique needs, there is no fixed CoolSculpting price. A number of variables will be considered when calculating the price of your custom CoolSculpting treatment plan, including which area or areas are treated, the size of the treatment area, and the total number of treatment sessions needed to achieve your goals.
CoolSculpting is usually considered a cosmetic treatment by insurance companies. Therefore, it is not likely to be covered by most policies. At the end of your preliminary consultation, your aesthetician will provide you with a quote for the complete treatment package. Our office staff can aid you in finding the best financing options and payment methods to help meet your needs. Qualifying patients are able to take advantage of low monthly installment plans with little to no interest.
CoolSculpting Patient Testimonials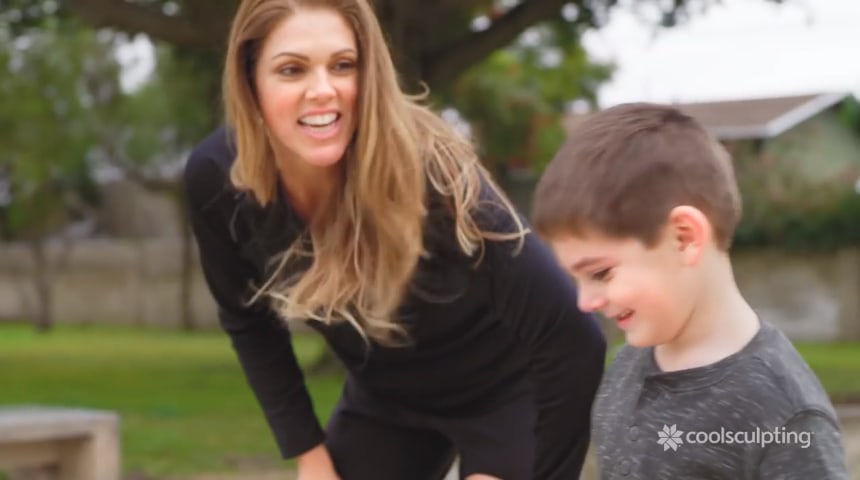 Additional Frequently Asked Questions About CoolSculpting
How Old Do You Have to Be to Get CoolSculpting?

CoolSculpting has only been evaluated on healthy patients 18 years and older. Each patient is assessed on a case-by-case basis to determine if they are an appropriate candidate for the procedure.

Is Cryolipolysis the Same as CoolSculpting?

Yes, CoolSculpting is the brand name for a cryolipolysis system. The word "cryolipolysis" literally means producing extreme cold to break down fat. CoolSculpting is an FDA-cleared technology that safely freezes excess fat calls to create a more contoured body shape.

How Cold Does CoolSculpting Get?

The CoolSculpting system reaches a precise temperature below 32 degrees Fahrenheit (0 degrees Celsius) in order to crystalize the excess fat cells without harming the surrounding skin and other tissues. To ensure the device stays at a safe temperature, the technology has a controlled cooling feature that will automatically turn the machine off if a change in temperature is detected.

Is CoolSculpting Safe?

CoolSculpting is considered a safe treatment when performed by a qualified professional. The technique has been cleared by the FDA to treat nine different body areas, and has helped countless patients achieve noticeable body contouring results without the need for surgery. While CoolSculpting can be a highly beneficial treatment option, it is not right for everyone. Dr. Zemmel will determine your candidacy for the procedure during your consultation, and explain the risks of treatment so you can make an informed decision.

Where Does the Fat Go After CoolSculpting?

During the CoolSculpting procedure, targeted fat cells are frozen and destroyed. Over the course of several weeks, your body's metabolic system naturally eliminates these damaged cells through urine. Once the fat has been removed from the body, it cannot return, but the remaining cells can fluctuate in size with weight changes.

How Long Does Swelling Last After CoolSculpting?

Swelling is normal after CoolSculpting, usually lasting between a few days to a few weeks. For some patients swelling may take several weeks to completely dissipate. If you are concerned with the amount of swelling you are experiencing, you should contact your physician.

How Often Can You Do CoolSculpting?

Many patients can benefit from a series of CoolSculpting treatments to achieve optimal fat reduction results. Since it takes several weeks for the damaged fat cells to be processed out of the body, it is typically recommended to wait after this period—about 3 months—to schedule a follow-up treatment, if one is desired.

Can CoolSculpting Help Me Lose Weight?

CoolSculpting is not a weight loss procedure. It is designed to reduce isolated pockets of fat around the body that have proven resistant to diet and exercise. Patients should be within 20 to 30 pounds of their target weight to be considered a candidate for CoolSculpting.
Contact Dermlounge
To learn more about CoolSculpting and to determine if this treatment is right for you, or if an alternative like KYBELLA® is more appropriate, please contact us today for a consultation.