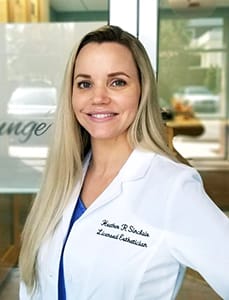 Heather Sinclair, LE is an experienced Licensed Aesthetician who enjoys providing skin care solutions that heighten the beauty of each patient.  Heather has mastered the latest techniques in laser treatments, noninvasive body contouring procedures, chemical peels, and medical facials. She has been described as being very personable and making patients feel extremely comfortable and at ease.  Heather knows that each patient has unique needs, and she strives to provide customized solutions for each individual. She takes great pride in her work and enjoys accentuating each client's natural beauty while providing them exceptional service.
Before beginning her career as an Aesthetician, Heather served her country as a United States Marine. After serving four years with multiple deployments, Heather was honorably discharged and later found her passion in skincare and beauty through technology. She attended the American Spirit Institute in 2011 where she received her Aesthetician License. In 2014, Heather attended the Esthetic Institute where she began her specialization in lasers, acquiring multiple laser certifications. She comes to Richmond Aesthetic Surgery with her education and years of experience as a Certified Aesthetician using the latest tools in skincare.
In her spare time Heather enjoys making memories with her husband Shawn, toddler son, and baby girl. She is a country girl at heart and loves live music and the outdoors.
Book Your Appointment with Heather