The Dermlounge is the medical spa of Richmond Aesthetic Surgery, founded by board-certified plastic surgeon Neil J. Zemmel, MD, FACS. The Dermlounge is located within the surgical practice, and we are therefore able to offer you the latest medical-grade skin care treatments and products. Treatments are performed by our primary injection specialist, Megan J. Goff, and our aesthetician, Heather Sinclair, LE.
Your Consultation and Treatment
Our aesthetician tailors each treatment to your specific needs. She will formulate a customized treatment plan for your exact needs and skin type to achieve the best skin care results possible. Your concerns will be addressed with a thorough skin analysis, followed by a review of your current skin care routine and products. We will create a recommended treatment plan to provide lasting results long after you leave our office.
DiamondGlow™

DiamondGlow involves a three-in-one resurfacing treatment with serum infusion for noticeable skin improvement. Whether you are concerned with acne, hyperpigmentation, sun damage, or fine lines and wrinkles, DiamondGlow offers a non-invasive method of improving skin tone and texture. Appropriate for all skin types, this 20-minute procedure can be a great solution for a variety of concerns, providing immediate results with no downtime.
Morpheus8

Morpheus8 is a minimally invasive treatment that combines microneedling with radiofrequency energy to improve the skin's tone and texture. The highly customizable procedure causes micropunctures in the skin as the RF energy penetrates the outer skin layers. As a result, the body's natural healing response is stimulated, leading to the production of new collagen and elastin. As a result, patients can enjoy improvement in a variety of skin concerns, including fine lines and wrinkles, scarring, and age spots.
Micropeels
Micropeels at the Dermlounge are considered safe and gentle for all skin types. They are designed to improve a variety of skin concerns, including rough or dull skin texture, sun damage, acne, and fine lines and wrinkles. Performed by our experienced aesthetician, micropeels result in little to no downtime, allowing patients to resume their daily activities with minimal interruption. Only mild peeling and redness typically occur after treatment. To provide more extensive exfoliation, you can opt to add the dermaplaning treatment to any of our micropeels.
Chemical Peels
Chemical peels are a safe and effective treatment used to improve skin tone, texture, and irregular pigmentation. Chemical peels also will cause deep exfoliation, oil control, improve acne, sun damage, environmental damage, and signs of aging. Some peels may result in little to no skin peel, while others result in mild to moderate peeling. To achieve optimal results, a series of peels are recommended. With meticulous attention, our aesthetician will evaluate, educate and guide you to the right treatment for healthy, vibrant skin.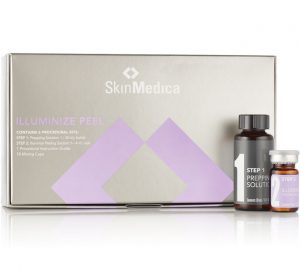 SkinMedica Illuminize
Known as the "wedding day peel", this chemical peel is appropriate for first-time, patients with mild skin imperfections or patients that are looking for brighter, more radiant skin with no downtime. It is appropriate for all skin types and can be received every two weeks until desired results are achieved. Results are cumulative and optimal benefits are seen with a series of three or more peels.
SkinMedica Vitalize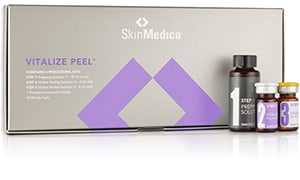 An excellent chemical peel for environmentally damaged and acne skin. This peel contains salicylic and lactic acids to reduce the appearance of skin imperfections while enhancing collagen production. Noticeable results in one treatment, a series of 3-6 treatments recommended for optimal results. Results in 2-5 days of mild to moderate peeling and redness.
SkinMedica Rejuvenize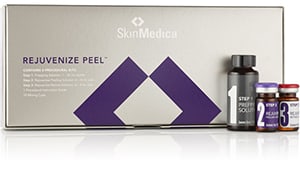 This peel is similar, but a little stronger than the Vitalize Peel. An advanced formulation of exfoliating agents that penetrate the deeper layers of the skin to reveal fresher, healthier skin. Noticeable results in one treatment, a series of 3-6 treatments recommended for optimal results. Requires at least one previous SkinMedica Vitalize peel to determine candidacy for this peel. Results in 2-5 days of moderate peeling and redness.
Vi Peels
This chemical peel is a powerful, innovative formula of TCA, Retin-A, Salicylic, Phenol, and Vitamin C. This unique blend produces amazing results for improving skin tone & texture, hyperpigmentation, melasma, reduces acne scarring, reduces appearance of pores, while stimulating collagen growth and elastin production. Results in 2-5 days of moderate peeling and redness.
See our skin care specialists to determine which Vi peel is best for your skin.
À la Carte Med Spa Services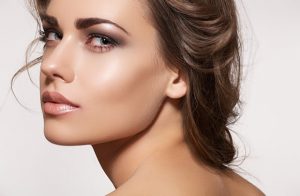 All of these items may be performed alone or added to other med spa services. Our aesthetician will provide you with more information during your consultation and treatments.
Dermaplaning
"Smooth as a baby's bottom" – This physical form of exfoliation removes dead skin cells and fine facial hair. You will be able to feel the difference in your skin immediately.
For more information on our Skin Care Services, or to schedule a consultation at Dermlounge, please contact us today.