JUVÉDERM® is a hyaluronic acid filler that is used to replace volume lost through the normal aging process. Hyaluronic acid (HA) is a natural hydrating component of skin that binds and holds water in order to maintain volume in the face. As we age we lose hyaluronic acid and collagen in our skin tissues which causes thinning of the skin, loss of volume, and deflation of the facial tissues. This facial deflation causes hollowed or sunken areas in the face that contributes to an aged appearance. JUVÉDERM is a biocompatible dermal filler that replaces this volume in the affected areas and also helps to fill in deeper wrinkles.
Where Is JUVÉDERM used?
JUVÉDERM is used to replace volume throughout the entire face. It is most commonly used along the nasolabial folds, or parentheses lines around the mouth; the marionette lines of the lower mouth; the pre jowl sulcus; as well as the upper and lower lip to enhance volume. It is also commonly used to re-inflate the cheeks and the temporal region for a more youthful appearance.
What Are the Different Types of JUVÉDERM?

Each type of JUVÉDERM is specially formulated to address a specific concern or area of the face. Our team offers JUVÉDERM® XC, JUVÉDERM® Ultra XC, and JUVÉDERM VOLUMA® XC, which allows us to tailor treatment for every patient to produce optimal results.
JUVÉDERM XC
JUVÉDERM XC is used for smoothing moderate to severe facial lines and folds, such as the nasolabial folds that extend from the sides of the nose down to the corners of the mouth.
JUVÉDERM Ultra XC
JUVÉDERM Ultra XC is often recommended for patients wanting to enhance their lips or smooth the lines that develop around the mouth over time.
JUVÉDERM VOLUMA XC
JUVÉDERM VOLUMA XC is designed for deep injection into the cheek area to restore lost volume caused by the natural aging process.
What Can I Expect During the JUVÉDERM Treatment?
Your comfort is of utmost importance at Richmond Aesthetic Surgery and Dermlounge, so we ask you arrive 30 minutes prior to your procedure for a topical anesthetic to be placed along the treated areas. This will help to keep your discomfort at a minimum during the procedure. JUVÉDERM XC is also premixed with lidocaine to ensure further comfort. Next, the JUVÉDERM is injected into the soft tissue of the dermis using a very small needle and then manually massaged to ensure the smoothest results. An icepack is then immediately applied to reduce bruising. The entire process takes approximately 30 minutes to 1 hour.
When Will I See My JUVÉDERM Results?
The results of your JUVÉDERM injections should be apparent immediately after treatment. You may experience an additional plumping effect over the first 24 hours as the hyaluronic acid gradually takes effect.
JUVÉDERM Before & After Photos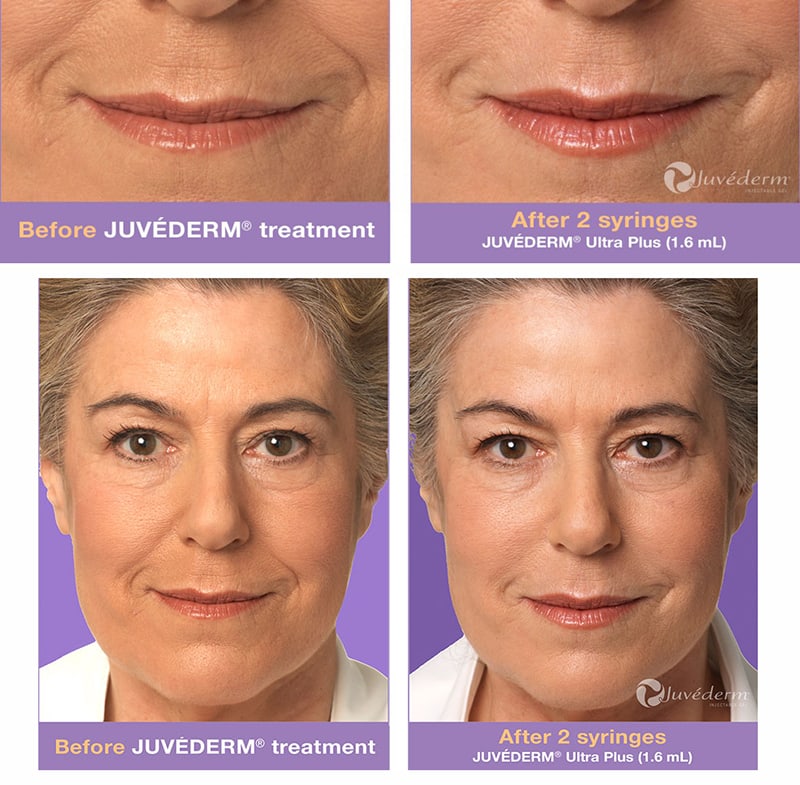 How Long Does JUVÉDERM Last?
Depending on the specific product being administered, JUVÉDERM can last anywhere from 1 to 2 years. More specifically, JUVÉDERM XC and Ultra XC have shown to last for up to 1 year. JUVÉDERM VOLBELLA XC can last 12 months or longer, and VOLLURE XC can last up to 18 months. JUVÉDERM VOLUMA XC is the longest-lasting injectable in the family of fillers, lasting up to 2 years. If you want to extend the results of your JUVÉDERM injections, you can schedule maintenance treatments for long-lasting rejuvenation.
What Side Effects Are Associated with JUVÉDERM?
The most common side effect after JUVÉDERM injections is bruising along the injected areas. Not everyone bruises but people who take blood thinners such as aspirin or ibuprofen are at increased risk. Other rare injection site reactions can occur, such as redness, tenderness, and swelling. Because hyaluronic acid is a natural component in the skin there is little to no chance of allergic reaction and allergy skin testing is not required.
Contact Dermlounge
For more information about JUVÉDERM, as well as our other cosmetic injectables like BOTOX® Cosmetic, please contact us today to schedule a consultation at Dermlounge