Morpheus8 is a microneedling treatment that incorporates radiofrequency (RF) energy to improve the look and health of your skin. As the innovative device creates micropunctures in the outer skin layers and applies RF energy, the body reacts by trying to heal itself, leading to collagen and elastin production. At the Dermlounge medical spa, our aesthetic professionals often recommend Morpheus8 for those wanting to improve their skin's pigmentation and texture. The minimally invasive treatment can effectively tighten the skin while remodeling excess fat to create a rejuvenated look with little to no downtime.
What Are the Benefits of Morpheus8?
As one of our state-of-the-art non-surgical skin care treatments, Morpheus8 offers a wide range of benefits for patients wanting to improve the appearance of their skin. While every patient will respond differently to Morpheus8, the treatment holds advantages such as:
Highly customizable to your unique skin concerns
Effective solution for unwanted wrinkles, age spots, mild sagging, and scars
Can help tighten areas with sagging skin and unwanted fat for contoured results
Safe for all skin types, including darker tones, with a low risk of hyperpigmentation
Can be used on virtually any body area
Little to no recovery period after treatment
Depending on your aesthetic goals, add-on treatments may be recommended for your treatment plan, such as BOTOX® Cosmetic, for a more comprehensive rejuvenation.
What Does the Morpheus8 Treatment Entail?
Video Image Placeholder
The Morpheus8 procedure can typically be completed in one hour, but you can expect your appointment to last longer due to the initial time needed for the numbing cream to take effect. Once the treatment area is numb, your provider will use the handheld device to begin microneedling your skin, during which time gentle RF heat will also be delivered.
Your treatment will be customized according to your comfort level and skin concerns to ensure the best possible experience and results. It is normal to feel some discomfort during treatment, but our team strives to make you feel as relaxed as possible during the Morpheus8 procedure through topical numbing and treatment settings.
While you can resume your normal schedule after leaving our office, some patients wait a few days to return to their social activities due to the initial redness and swelling that is common.
Are There Side Effects to Morpheus8?
Mild side effects are to be expected immediately after your Morpheus8 treatment, including redness, itching, swelling, and potential bruising, which can last for a couple days. These are all considered normal as your body responds to the "micro-wounds" created in your skin, stimulating the natural healing process.
When Will I See My Morpheus8 Results?
Your Morpheus8 results should gradually become more noticeable within the first few weeks after treatment as your skin heals. You may notice additional tightening for the next three months, as well. To get the best possible results, you may be recommended to undergo a series of Morpheus8 treatments; usually one to three sessions produce optimal results.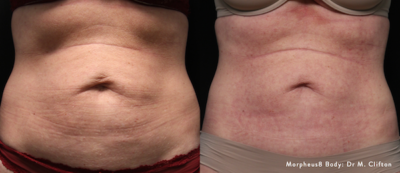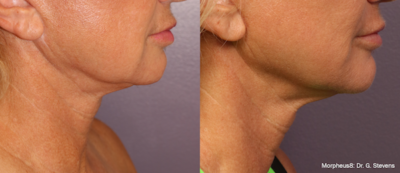 Did You Know
The skin improvement achieved with Morpheus8 can often last for up to a year. This is why our team recommends yearly touch-up treatments to help you maintain your results.
How Much Does Morpheus8 Cost?
The cost of Morpheus8 treatments will greatly vary based on the extent of your skin care needs. After the consultation with your aesthetic provider, our team can provide you with a personalized quote to help you understand what to expect from your treatment plan.