Laser vein removal is a minimally invasive treatment at our medical spa that can eliminate spider veins appearing on the surface of the skin. By utilizing advanced laser technology, our aesthetic enhancement team can remedy this common concern without the need for needles or injections, helping you achieve clearer, more even-toned skin.
What Are Spider Veins?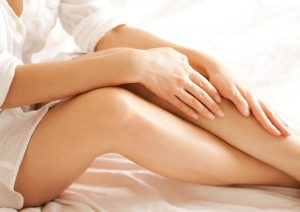 Spider veins are bluish-purple veins that can appear on a variety of body areas—most commonly in the legs and sometimes along the face. They typically resemble a spider's web, and can sometimes be very painful. They can also create noticeable blemishes on the skin.
How Does Laser Vein Removal Work?
During the laser vein removal procedure, advanced light-based energy will be targeted precisely at the spider veins. The blood vessels absorb this heat and start to collapse, effectively shrinking until they disappear. Our team utilizes multiple laser systems for vein removal, customizing the procedure based on the individual's unique needs. This may include treatment with the Sciton® BroadBand Light (BBL™) system and/or Cynosure® 1064 nm Nd:YAG laser technology.
Each laser vein removal treatment lasts about 5 to 15 minutes, depending on the size and number of the treatment areas. A topical anesthetic can be applied, but this typically is not necessary since the process produces minimal discomfort. While some veins may disappear immediately, others may slowly improve over several days. Multiple sessions (about two or three) may be necessary to completely remove the veins.
Can I Get Laser Vein Removal on the Face?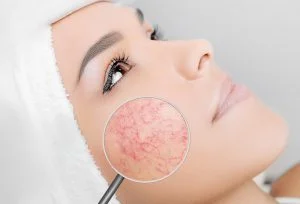 Aside from the legs, the face is one of the most common areas to reveal blood vessels as we age. Utilizing our BBL system or Nd:YAG laser, spider veins such as those that tend to develop in the cheeks and around the nose (called "telangiectasias") can be effectively diminished. During vein removal on the face, protective eyewear will be worn, and a topical anesthetic can be applied for enhanced patient comfort.
What Can I Expect in the Laser Vein Treatment Recovery?
Some bruising or swelling may occur after treatment, which should quickly resolve within a few days. After 12 to 24 hours of recovery, most patients can usually resume normal activities.
How Much Does Laser Vein Removal Cost?
The cost of laser vein removal will vary for each patient, depending on the size of the treatment area, number of targeted areas, and how many sessions are needed to achieve optimal results. On average, laser vein treatments tend to cost about $150-$300, depending on the area, per session. A price quote will be shared with you during your consultation to help you understand what to expect.
Are There Any Side Effects to Laser Vein Removal?
All laser treatments come with some degree of risk, but the side effects associated with laser vein removal are typically minor and subside within a few days. Temporary pain, redness, swelling, and pigmentation issues are not uncommon after treatment. More rare side effects include bruising, soreness, and developing a small blister. To help minimize the risk of possible side effects, our aesthetic professionals recommend wearing a broad spectrum sunscreen with an SPF 35 or higher starting at least two weeks before treatment, and avoiding tanning skin with sun exposure, creams, or lotions.
Contact Us for a Consultation
If you are interested in learning more about laser vein removal, or if you would like to schedule a consultation, please contact our Richmond office today.