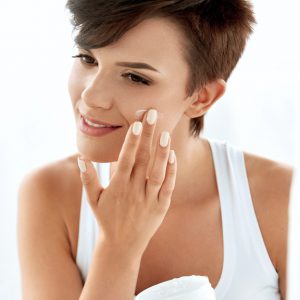 Everyone wants to have glowing, healthy skin, but not everyone is using the right products to achieve this flawless complexion. While some individuals have their favorite drugstore products, others are loyal users of pharmaceutical-grade skincare products. At the Dermlounge, we offer the highly regarded SkinMedica®, Obagi® and SkinCeuticals® Medical skincare lines and treatments. To learn why our medical-grade skincare products have better potential than over-the-counter cosmetic products, read about each type of beauty product below.
Over-the-Counter Beauty Products
The most commonly purchased beauty products are those sold at drugstores and other retailers without the need for a prescription. The active ingredients in these products are designed to treat the average person and are legally not allowed to surpass a certain level. As a result, many people don't achieve the dramatic results they expect.
Due to the marketing of these products promising beautiful outcomes, people continue to buy the different products hoping to find one that can provide the improvement they desire. While many of these products can help the skin, people often need to use more of these to get near the same level of effects achieved by medical-grade products.
Medical-Grade Skincare Products
Although over-the-county beauty products and medical-grade skincare are often intended for treating the same concerns, medical-grade products are prescribed by doctors or licensed aestheticians. The formulas in medical-grade skincare are designed to reach deeper into the skin for a more dramatic improvement. This is possible due to the higher concentration and number of active ingredients involved.
A major difference between products offered by licensed professionals versus drugstores is that medical-grade skincare is under FDA regulation to contain 99.9% pure ingredients and to ensure safety and effectiveness. They are supported by scientific research and are specifically formulated for best results. Because of this fact, those interested in transforming their complexion should seek medical-grade skincare products to achieve optimal results.
Finding the Best Products for Your Needs
While many people find that over-the-counter beauty products can provide sufficient results, medical-grade skincare is more reliable and clinically proven to achieve faster, more effective improvement. By combining pharmaceutical-grade skincare with the expertise of our licensed professionals, you can achieve the beautiful, younger-looking skin you desire.
To discuss your skin concerns with one of the knowledgeable professionals at our medical spa, and find the best SkinMedica®,Obagi®, or SkinCeuticals® products for your needs, please contact us to schedule an appointment.