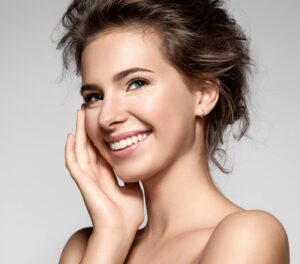 JUVÉDERM® continues to revolutionize the market for cosmetic injectables with the introduction of JUVÉDERM VOLLURE™ XC, a new product specifically designed to target the smile lines that extend from the nose to the mouth. JUVÉDERM® has long released a number of innovative dermal fillers that use naturally occurring substances to combat the forces of time and age, but JUVÉDERM VOLLURE™ XC acts as the only product that can achieve optimal results for nasolabial folds lasting up to a year and a half.
Like all products in the JUVÉDERM® dermal filler line, JUVÉDERM VOLLURE™ XC is composed of a hyaluronic acid-based gel. Hyaluronic acid is a substance produced naturally in the body to moisturize and soften skin. Combined with lidocaine, a mild anesthetic found in the gel to decrease discomfort at the injection site, JUVÉDERM VOLLURE™ XC firms and softens skin, yet remains supple enough to flow easily through the desired treatment area.
JUVÉDERM VOLLURE™ XC gently and effectively improves the look of nasolabial folds, or "parentheses" wrinkles, by adding small amounts of volume to the treatment area for a more youthful, rejuvenated appearance. JUVÉDERM VOLLURE™ XC's ability to comprehensively treat moderate to severe wrinkles in the lower half of the face with a non-surgical, minimally invasive procedure is prompting some patients to consider it as an alternative to a facelift. Benefits of using JUVÉDERM VOLLURE™ XC can include:
Temporarily reverses signs of aging by smoothing nasolabial folds
Minimizes discomfort during the procedure due to the built-in anesthetic
Lasts up to eighteen months
Mild to moderate side effects may appear at the injection site and can include swelling, numbness, bruising, or discoloration. Within a week, these will typically subside.
To learn more about whether you are a good candidate for JUVÉDERM VOLLURE™ XC, please contact our practice today.