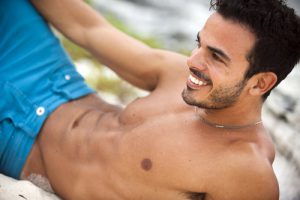 Although hair removal is typically thought of as a female treatment, the act has become an increasingly popular option for men as well. While there are several methods for removing unwanted hair, our team at Dermlounge is pleased to offer the solution of laser hair removal. By using advanced laser technology, our male patients can achieve smooth, hair-free areas.
A major benefit of using a laser for hair removal is that almost any area of the body can be treated with ease. Some of the most popular areas that men wish to treat include the back, chest, stomach, shoulders, and pubic region. Another advantage to this technique is the very specific, localized nature of the treatment. The laser allows our professionals to strategically remove hair, whether the patient desires a complete removal or just thinning of an area.
To achieve optimal results, we recommend undergoing a series of six hair removal sessions, with one every four to eight weeks, depending on the body area treated. It should be noted, however, that laser hair removal is only effective on colored hair that is darker than the surrounding skin – it cannot treat gray, white, or light blonde hair.
For more information about laser hair removal for men, please contact our practice.