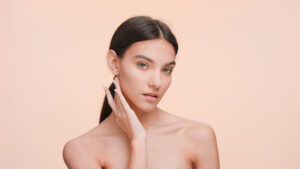 The jaw essentially serves as a frame for the face. Its size and position in relation to the rest of the features help make up your individual profile. As such, a jawline that appears disproportionately small or weak can take away from what otherwise would be a well-balanced facial anatomy. For some, a weak jaw or chin can even be the source of embarrassment.
At Dermlounge, our experienced team offers several treatments to fulfill your cosmetic goals without the need for surgery. Although chin augmentation with facial implants can be a very effective surgery, our high-quality injectables can produce results of a similar caliber. The following are our most popular minimally-invasive options to contour the jawline.
Dermal Fillers
Dermal fillers can be a wonderful choice for those interested in non-surgical facial rejuvenation. Used to add shape and volume to many different areas of the face, we offer multiple fillers composed of hyaluronic acid (HA), a naturally-occurring substance in the body that aids in collagen production and skin hydration. When applied by a qualified injector, dermal fillers can provide aesthetic improvement that is noticeable yet subtle.
These fillers, such as a select few from the ​​JUVÉDERM® family, can be injected into the soft tissue in the jaw to add definition to the face. For longer-lasting results, patients often come to Dermlounge for multiple treatment sessions.
BOTOX® Cosmetic
This well-known injectable differs from dermal fillers in that its main ingredient is botulinum toxin A, a neurotoxin that can stop muscles from over-contracting. This unique chemical solution makes BOTOX® Cosmetic highly versatile; it can combat dynamic wrinkles of various severity, reduce laxity in the neck, and even treat hyperhidrosis (overactive sweating) in the underarms. In addition, this famous treatment can be applied to the jawline to bring out its natural "V" shape.
If you're interested in non-surgical options for contouring your jawline, contact our aesthetic professionals at Dermlounge today. During an initial consultation, we can help you choose a minimally-invasive facial enhancement procedure to meet your needs.