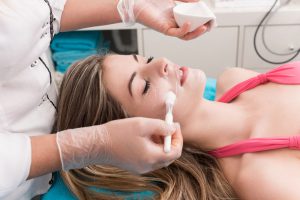 Chemical peels are a popular skin care solution that can reveal smoother, healthier facial skin without the need for much downtime (if any at all). At Dermlounge Caitlin M. Roop, our licensed master aesthetician, performs this non-invasive treatment, tailoring it to the patient's skin condition and the concerns they would like to improve. The recommended chemical formula will depend upon the level of intensity the patient needs to reach their goals, as well as the amount of downtime they are comfortable with. The most common chemicals typically used in chemical peels include:
Alpha hydroxy acids (AHAs)
Beta hydroxy acids (BHAs)
Trichloroacetic acid (TCA)
Phenol
AHAs and BHAs are the least intense acids and are often used as part of the gentler micropeel treatment. TCA can be used in various formulas, typically as part of a medium-grade chemical peel. Finally, phenol is the most powerful chemical used in peels, such as in our Vi Peels, causing about 2-5 days of moderate peeling in most cases.
Interested in getting a chemical peel at Dermlounge? Contact us to schedule an appointment with our licensed aesthetician and learn which formula is right for your skin care needs.