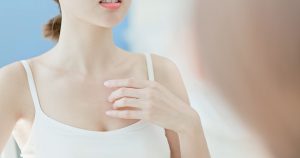 The chest is one of the first areas to show signs of aging, due to sun damage and the natural aging process. Often called the décolletage, the chest commonly develops wrinkles and thin, crepey skin over time. This is caused by a decrease in collagen production and less elasticity. Lines and wrinkles on the chest are especially common in women as a result of breast tissue pulling the skin. While it's well-known that facial wrinkles can be minimized with certain products and treatments, many people may not realize their chest wrinkles can also be improved.
At the Dermlounge, our aesthetic professionals offer a variety of anti-aging treatments for the face, chest, hands, and other areas that can make a patient feel self-conscious. Those wanting to target their chest wrinkles may benefit from treatments such as laser therapy, chemical peels, filler injections, and medical-grade skin care products. Two of the most common solutions recommended for our patients tend to be fractional CO2 laser resurfacing and micropeels.
Our fractional CO2 laser technology creates microperforations in the skin to help stimulate the creation of new collagen. As more collagen is produced, skin tone and texture gradually improve to create a more youthful look. Micropeels, on the other hand, are a less invasive treatment that addresses the outer layer of skin. A superficial type of chemical peel, the micropeel can help brighten and smooth the outermost skin for a rejuvenated chest appearance.
The best treatment for wrinkling on your chest will ultimately depend on the extent of your needs and your aesthetic goals. When you come in for a consultation with one of our aesthetic professionals, they can help you find the most appropriate treatment option(s) for helping turn back the clock on your aging décolletage.