JUVÉDERM VOLLURE™ XC is an advanced dermal filler, part of a newer line of JUVÉDERM® products designed to provide longer-lasting, natural-looking results more effective than their predecessors. JUVÉDERM VOLLURE™ XC is a smooth gel FDA-approved to reduce the appearance of nasolabial folds, or the "parentheses" wrinkles that run from the nose to the corners of the lips. This injectable is composed of hyaluronic acid (HA), a substance produced naturally in the body that moistens and softens skin. The flexible gel is also combined with a mild anesthetic called lidocaine in order to minimize pain during injection.
Where is JUVÉDERM VOLLURE™ XC used?
JUVÉDERM VOLLURE™ XC is meant to treat the wrinkles known as nasolabial folds. As time passes, the smile lines running from the corners of the nostrils to the lips become more pronounced and can make the face look tired and aged. JUVÉDERM VOLLURE™ XC creates a more rejuvenated, youthful look for patients over age 21 by adding subtle volume to treatment areas and smoothing the appearance of fine lines. As a hyaluronic acid-based gel, the filler is flexible enough to simultaneously firm and lift skin.
What to Expect from a JUVÉDERM VOLLURE™ XC Treatment
JUVÉDERM VOLLURE™ XC will be injected in small amounts—either by our board-certified plastic surgeon, Dr. Neil J. Zemmel, or our Physician Assistant, Megan J. Goff—to the desired sites in order to correct moderate to severe nasolabial fold lines. The injection site may then be gently massaged to ensure the product is evenly distributed. The built-in anesthetic, lidocaine, typically minimizes discomfort during the procedure, but additional numbing agents can be applied upon patient request.
JUVÉDERM VOLLURE™ XC Treatment Results
Patients typically notice an improvement in the appearance of their fine lines and wrinkles immediately following the procedure. JUVÉDERM VOLLURE™ XC provides natural-looking results that not only smooth age lines, but also subtly enhances volume around the cheeks. Results typically last up to eighteen months, making JUVÉDERM VOLLURE™ XC one of the longest-lasting dermal fillers available. Touch-ups and additional treatment are available upon request.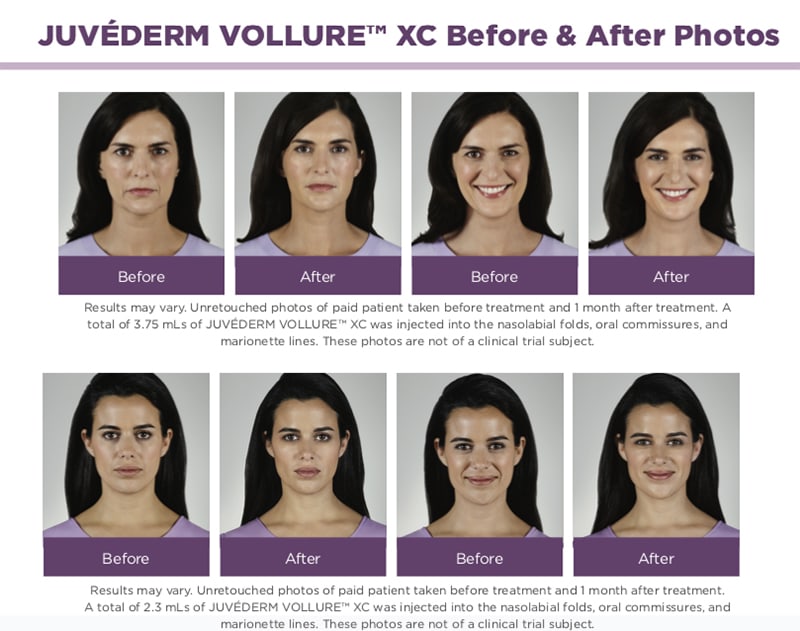 Side Effects Associated with JUVÉDERM VOLLURE™ XC
In most patients, there is little to no downtime following the procedure. Side effects of JUVÉDERM VOLLURE™ XC are generally limited to the injection site and can include temporary bruising, swelling, tenderness, firmness, lumps/bumps, redness, pain, discoloration, and itching. These mild to moderate side effects typically resolve within one week.
Contact Dermlounge
To learn more about JUVÉDERM VOLLURE™ XC and how it can help rejuvenate your facial appearance, contact us today to schedule an initial consultation.