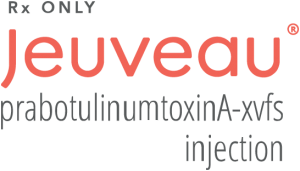 Jeuveau is an FDA-approved cosmetic injectable by Evolus™ that is intended to temporarily reduce the appearance of moderate to severe frown lines, also known as glabellar lines or 11s, in adult patients. The injectable gets its name from the French word "nouveau," meaning new or modern. Jeuveau is an innovative new neurotoxin injectable, similar to BOTOX® Cosmetic, that can help men and women achieve a younger-looking facial appearance.
What Is Jeuveau Used for?
Jeuveau is specially designed to address the common concern of frown lines. These lines are one of the first and most noticeable signs of facial aging that tend to develop. Many patients want to treat this trouble area due to it causing them to look like they are furrowing their eyebrows, which can create the illusion they are unhappy or angry. By reducing the bold appearance of these lines, patients often report that their face more accurately represents how they feel.
How Does Jeuveau Work?
Jeuveau, also known as prabotulinumtoxinA-xvfs, is a neurotoxin that works similarly to BOTOX® Cosmetic and Dysport®. Unlike dermal fillers, which add subtle volume in order to smooth lines, neurotoxins are able to effectively diminish unwanted lines by inhibiting the overactive muscles' ability to flex. During treatment with Jeuveau, the product is strategically administered into the area between the eyebrows to produce the most natural-looking outcome.
Did You Know
Over the course of about one week, the formula should gradually take effect and cause the targeted muscles to relax, leading to a more refreshed and youthful look. You will be provided with post-treatment care instructions to ensure you get the most out of your Jeuveau session.
How Long Does Jeuveau Last?
Jeuveau injections typically last about three to four months, if not longer for some individuals. A series of three injectable treatments over one year is often recommended to achieve optimal results. Follow-up sessions after this period can help prolong Jeuveau's rejuvenating effect, as well.
What Side Effects Are Associated with Jeuveau?
To ensure your safety during and after treatment with Jeuveau, it is important that you seek care from a qualified aesthetic professional. As with most injectables, you may experience some side effects immediately after treatment, including pain at the injection site, inflammation, swelling, and bruising. Other side effects that are possible with Jeuveau include infection and headaches, as well as more rare complications like drooping of the eyelids, infection of the upper respiratory tract, and an increase in white blood cells. If you have any concerns about side effects you are experiencing, please don't hesitate to reach out to us, and our team can help you determine if your concerns should be more closely evaluated.
How Much Does Jeuveau Cost?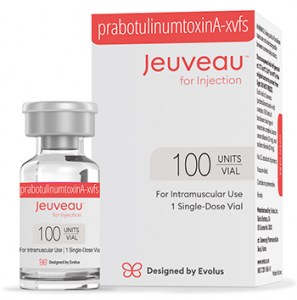 The average cost of a Jeuveau treatment is approximately $286, but this will vary based on the anatomical region being treated and the patient's goals. These details will determine how many units of the product are required to help them realize their desired outcome. A unit of Jeuveau, like BOTOX Cosmetic, is $13 and most patients require a total of 19 to 30 units.
Due to treatment being customized to each individual, the total cost will vary from case to case. You will be provided with a personalized cost quote during your consultation to help you budget for your treatment. If you would like to pay for the cost of your Jeuveau treatment over an extended period of time, our team can explain the various financing options that are available.