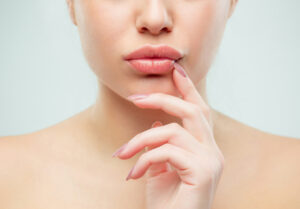 Lip augmentation is a highly sought after and effective cosmetic procedure aimed at producing more youthful and fuller-looking lips. One lip augmentation technique is known as a "lip flip" — a cosmetic treatment that can create softer and more "pouty" lips. Using strategic injections of neurotoxin products such as BOTOX® Cosmetic or Dysport®, the lips can essentially be "flipped" into a more appealing position.
These injections are also sought out to smooth wrinkles and lip lines, but plastic surgeons also find that they can be effective at improving the lip proportions. A lip flip is a subtle form of lip augmentation that is able to relax certain muscles and produce a more appealing look. By using precise injections of BOTOX® Cosmetic or Dysport®, the lips can be essentially flipped out to create the impression of a smoother and fuller appearance. This treatment allows for the brighter, red portions of the lips to be more visible when you smile or use other facial expressions.
As mentioned above, the injections are placed in strategic and precise locations near the upper lip to temporarily halt facial muscle contractions that often conceal the lips. By relaxing the muscles, the lips can be naturally rolled outward to reveal more "lip show," providing the lips with a more sensual look. This allows the lips to look fuller and softer without actually adding volume. A lip flip can often result in a natural-looking projection that provides this sought-after fullness. Treatment can also help smooth fine lines that are apparent above the upper lip.
Our team is highly trained and experienced in providing cosmetic injectable treatments. If you want to know more about a lip flip or other lip augmentation procedures, contact our practice today to schedule a consultation!