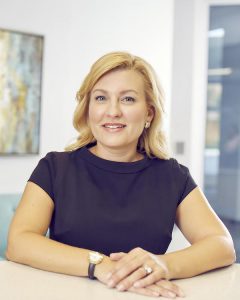 Rachel M. Duke is a board-certified Nurse Practitioner and the first Certified Aesthetic Nurse Specialist (CANS) in Central Virginia. She comes to our med spa with 11 years of experience in the aesthetics industry. After completing her undergraduate education in nursing at Cumberland County College and Stockton University, Rachel earned her master's degree in nursing at Virginia Commonwealth University (VCU). During her studies at VCU, she had the privilege of traveling abroad to South Africa to deliver nursing care to those in need.
Rachel has focused on non-surgical facial rejuvenation since 2005 and has been continuously honing her skills and staying up-to-date with new aesthetic advancements. She stays involved in the medical community by participating in conferences throughout the U.S. every year and is a member of the American Society of Plastic Surgical Nurses.
As part of a premier group of 150 nurses, Rachel acts as a faculty member and national trainer for the pharmaceutical company Allergan and the Allergan Medical Institute, training other healthcare providers. She is known by her peers for providing training on neurotoxins and dermal fillers using best practices and personalized attention.
With close to 20 years of nursing experience, Rachel has developed expertise in a number of medical areas, including facial plastic surgery, emergency medicine, transplant coordination, and transplant surgery. Her broad nursing background allows her to treat patients with the utmost knowledge and high-quality care.
One of her favorite parts of aesthetic medicine is the unique nature of treating each patient. There is no one-size-fits-all approach, as each individual requires a customized treatment plan to obtain their goals. By creating relationships with her patients, Rachel is able to better understand their needs and wishes. As a result, she can develop the most beneficial treatment plan for each individual.
Rachel grew up in southern New Jersey and currently resides in the far west end with her husband, Patrick, and two Cavalier King Charles Spaniels, Jersey and Daisy. In her free time, Rachel enjoys traveling abroad with her husband, as well as enjoying life around Central Virginia.
Contact Dermlounge
To learn more about Rachel and the rest of our team at Dermlounge, please contact us today to set up an appointment.