SculpSure® is a non-surgical and FDA-approved treatment for fat reduction and body contouring. Our Richmond med spa now offers this innovative procedure to help patients address stubborn pockets of fat that have been resistant to diet and exercise. Using light-based technology, SculpSure® can target and destroy isolated fat pockets, while leaving surrounding tissues unharmed. If excess fat on your abdomen, hips, or other areas is a source of frustration, this treatment may be beneficial.
How SculpSure® Works
The contouring technology of SculpSure® uses laser energy to target fat cells under your skin's surface. Then, the temperature of these fat cells is raised, causing them to break down. Over time, the damaged cells are metabolized and eliminated from your body, with help from the lymphatic system. Once eliminated, existing fat cells cannot regenerate. Results from a SculpSure® treatment can commonly be seen within six weeks, but may take up to 12 weeks for a more noticeable difference.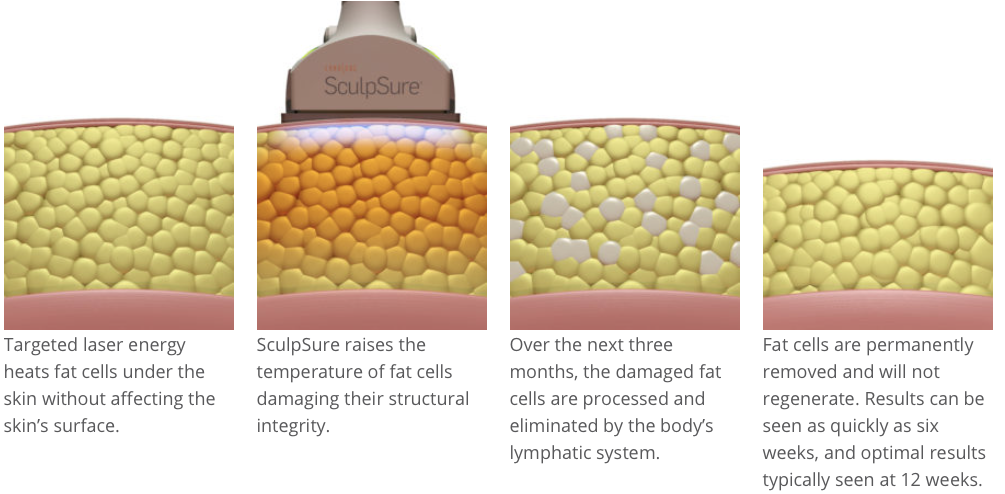 A SculpSure® Treatment Session
On the day of your appointment, our experienced medical staff will lead you to our treatment area. You may lie down or sit comfortably, depending on what area is being targeted. SculpSure® does not require you to have an anesthetic because it is a non-invasive treatment.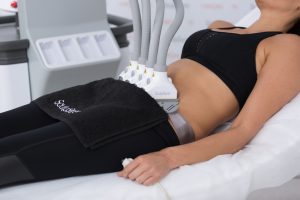 We will secure a band around your treatment area that will hold the SculpSure® paddles in place. Once the band and paddles are secured, we will turn on the machine. Your treatment should last about 25 minutes; however, this can vary depending on your unique needs. When it first begins, you may feel a cooling sensation. This can help keep your body comfortable during your appointment. The laser will cycle on and off while targeting fat cells. The fat cells need to be raised to a specific temperature to be able to break down. Commonly, patients feel a warm or tingling feeling during their treatment. After the completion of the cycles, we will remove the paddles and the band. At this time you are free to resume your normal daily activities. You may also schedule any follow-up appointments for other areas you wish to treat.
Ideal SculpSure® Candidates
Patients who are interested in SculpSure® treatment are usually close to their ideal weight. They are likely wanting to eliminate remaining pockets of fat that have been resistant to strict diet and exercise. Commonly, this extra fat is in areas such as the:
Thighs
Hips
Back
Abdomen
Stomach
Love handles (flanks)
Patients should be in relatively good health before having this treatment. SculpSure® can often be an ideal option for patients with busy schedules to get the treatment they desire, as there is no lengthy recovery process.
SculpSure® Frequently Asked Questions (FAQs)
What is SculpSure®?
SculpSure® is a non-invasive body contouring treatment, designed to reduce stubborn fat pockets. Areas that can be treated with SculpSure® include the thighs, hips, back, abdomen, stomach, and/or flanks.
How much fat will I lose?
In many cases, SculpSure® has shown to destroy up to 24 percent of targeted fat cells per treatment.
How many treatments will I need?
Every patient will respond differently to SculpSure® treatment. In your consultation, we can discuss your expectations and areas you wish to target. From there, we can develop a custom treatment plan to help meet your aesthetic goals.
How can I pay for this treatment?
SculpSure® is usually considered a cosmetic treatment by insurance companies. Therefore, it is not likely to be covered by most policies. Our office staff can help you find the best financing options and payment methods to help meet your needs.
What results can I expect?
Results from SculpSure® are typically noticed between six to twelve weeks following initial treatment. Once targeted fat cells are destroyed, they will not regenerate. Keeping diet and exercise a part of your daily routine can help curb further fat gain.
*Individual Results May Vary
SculpSure® Patient Testimonials
Contact Dermlounge
To learn more about SculpSure® and to determine if this treatment is right for you, please contact us today for a consultation.