JUVÉDERM VOLBELLA® XC is FDA-approved for adding volume to the lips and diminishing lines around the lips, commonly referred to as "smoker's lines." The innovative injectable is formulated with VYCROSS®, an advanced filler material that provides an especially smooth product. Composed of hyaluronic acid (HA), JUVÉDERM VOLBELLA® XC has proven to offer patients a soft, natural-looking lip augmentation while effectively smoothing the surrounding lines with long-lasting results.
Where is JUVÉDERM VOLBELLA® XC used?
JUVÉDERM VOLBELLA® XC is intended to subtly increase the size of the lips and smooth the lines surrounding the mouth for a rejuvenated appearance. The injectable is ideal for lip augmentation due to its extremely smooth gel consistency, which contains hyaluronic acid (HA). Patients over the age of 21 are eligible for JUVÉDERM VOLBELLA® XC injections.
What to Expect from a JUVÉDERM VOLBELLA® XC Treatment
A session of JUVÉDERM VOLBELLA® XC usually takes between 30 minutes to an hour to complete, depending on the extent of the patient's needs. Discomfort is typically minimal due to the special formula which contains the numbing aging lidocaine. However, additional numbing options can be used should the patient desire.
JUVÉDERM VOLBELLA® XC Treatment Results
Many patients can begin to see their results immediately following their treatment, though the area may appear slightly swollen for the first couple days. Since patients often desire a natural-looking improvement that is not too drastic, JUVÉDERM VOLBELLA® XC is a great treatment option, as it provides fullness and softens fine lines around the lips for a subtle enhancement.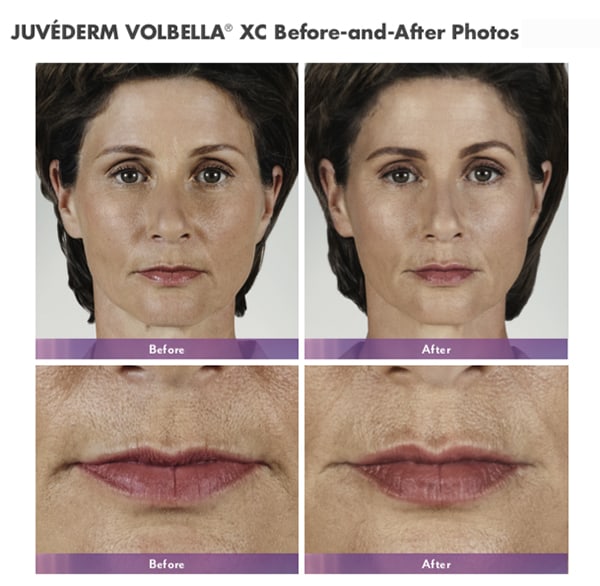 Clinical trials showed results from JUVÉDERM VOLBELLA® XC lasted more than one year for most patients. To prolong the lip-plumping and line-smoothing effects, they can return for follow-up treatments throughout that time.
Side Effects Associated with JUVÉDERM VOLBELLA® XC
It is normal to experience mild to moderate side effects immediately following treatment, but these should resolve within 30 days. Most commonly, this includes redness, swelling, and tenderness. Some patients may also notice firmness and bruising. As with any injectable treatment, there is also a rare possibility of infection at the injection site, but our team takes all precautions to minimize any potential complications.
Contact Dermlounge
For more information about JUVÉDERM VOLBELLA® XC, or to schedule your consultation, please contact us today!